Selecting The Right Exercise Bike Seat For A Comfortable Ride
Some exercise bike seat has gel padding that shapes itself to your body and adds comfort. Some have waterproof fixtures; others have mesh cutouts that add ventilation. There are stationary bike seats with an extra-wide composition to support and evenly distribute your body weight.
No matter what kind of cycling workout you prefer, everyone agrees that having an exercise bike seat that's comfortable is key to your workout. While the "no pain, no gain" philosophy gets a lot of attention, it's just common sense that, in order to develop a fitness regimen that keeps you coming back every day, you have to be seated comfortably.
But regardless of whether you're searching for a seat for a stationary bike, a road bike, or a mountain bike, whether you're an indoor cyclist or an outdoor pedaling enthusiast, you can be sure that the seat you want is out there waiting for you. By learning more about exercise bike seats, you'll be able to make the smart choice. Congratulations! Now that you're seat-searching, you've just taken that first major step toward building an exercise routine that's going to be part of your everyday life and fitness.
Highly Rated Exercise Bike Seats
Why You Should Have A Comfortable Seat For Exercise Bike Workouts

Of course, all stationary bikes come with a built-in saddle, but that doesn't mean that the bike you like has the seat that's right for you. If it's uncomfortable, or it fails to provide adequate support, you owe your backside a better ride.
One of the reasons why exercise bikes have become so popular as people search for a workout routine that they can maintain is because there are so many different reasons for choosing one. Exercise bikes are great for people who've just had orthopedic surgery, and they're just as good for pregnant women or seniors who want to stay healthy. With such a range of people opting for a cycling workout, it makes sense that not everyone is comfortable with the same model of the exercise bike seat. If you're sitting on the right exercise bike seat, it's going to absorb the shock when you're cycling, rather than your lower back taking the punishment.
Recognizing the Best Exercise Bike Seat
There are three basic styles of exercise bike seat for you to explore.
1) An upright bike seat: is the one you're likely to find on the bike in the gym. Typically, these seats offer an ergonomic design with a layer of gel padding or foam so that cyclists will be comfortable during their workouts.
2) An indoor bicycle seat: the kind that you'll see in a spin class, is designed to accommodate various simulated cycling situations and most resembles a regular bicycle in terms of shape, size, and positioning. When using this kind of bike, avoid setting your seat too low, which risks putting pressure on your knees and lower back. But don't position it too near the handlebars, or you might not feel as if the pedaling is natural.
3) The recumbent bike seat: offers the most support because of its backrest, allowing the cyclist to sit comfortably as you pedal. As you might guess, these seats offer the best support for people who have back problems: they aren't forced to lean forward into the handlebars and their backs remain upright. When cycling on a recumbent exercise bike seat, keep your legs and hips on the same plane, and bend your knees slightly.
An Exercise Bike Seat Cushion Can Give You a Better Ride
There are different options for different levels of discomfort if your exercise bike seat cushion is preventing you from maintaining a regular workout routine. An extra-wide cushion will provide more support; also, the seat cushions that are made of high-quality materials will last a long time. There are some seat cushions that replace your existing bike seat, while others have removable covers which add a layer of gel or memory foam to the seat that you have.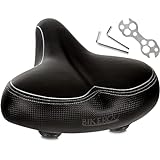 Finding A Wide Bike Seat Is Easy
A wide bike seat has special padding and a bigger surface that will distribute your weight more comfortably. It's not unknown for an exercise bike seat to feel uncomfortable, but that doesn't mean you have to stick with it. Lose the seat and find one that's right for you.
A Gel Bike Seat Cover Can Prevent Saddle Sores
Adding a gel pad bike seat cover adds comfort, making it easier for you to spend time on your exercise bike so that you have a full workout. Gel pad seat covers have a silkier material that's more like actual bike shorts, for a covering that won't stick or get caught on your skin and protects you from saddle sores caused by friction. Indoors or outdoors, cycling can be grueling if you don't have a comfortable seat. But it doesn't have to stay that way.