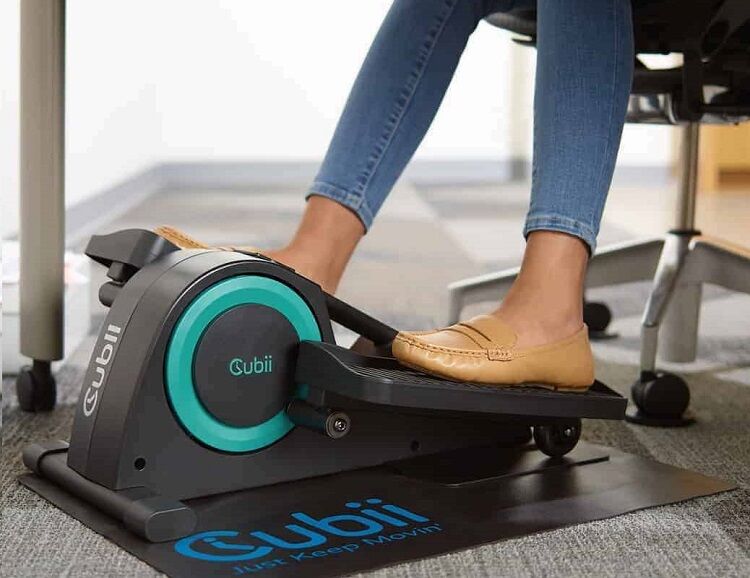 Your under desk bike could be the healthiest, best "under desk" sneakiness ever. There is a TikTok meme that runs something like, "Time for some sneaky business, hope I don't get caught." These memes usually involve household pets doing something they should not – like filching a sandwich or the dinner pot roast. What could be better to "sneak" under your desk than the means to get in a little healthy exercise while still attending to your "nine-to-five"? Even if (and hopefully it does) it has your boss's approval or even collusion, there is no need for the customers to know that behind that stolid business façade, there is a busy little exercise machine helping you get in your daily cardio.
Best Under Desk Bikes Offers
Under Desk Exercise Bike, The Perfect Physical Therapy Workout Equipment
Even if no "sneaking" is involved with your under desk exercise bike, there are several distinct advantages to having one. First, these little guys are generally less expensive than the big exercise bikes, some of them available for less than $30.00. They are available in pedal style, or as a mini elliptical machine. No few of them also have stretchy bands to help you build up your biceps or work out the kinks from focusing on important desk work. If that were not enough, they are space-efficient, making it possible to travel with them or to stash them in a closet or (hehe) under your desk when not in use.
Best Under Desk Bike
Your best under desk bike will have some convenient peripherals, such as a pocket-sized monitor that you can discretely set on your desk to see how many "miles" you log while totting up columns of figures, sorting out multiple reports, or asking (for the millionth time), "Ok. So, your computer won't turn on. Did you check to see if it is plugged in?" I know – sounds like a help desk joke, but it is one of the things that a panicked novice user can forget. That exercise bike under desk can be a great place to burn off irritation or frustration. Your best under desk bikes will also have some means of helping you keep your feet on the pedals or boards while still allowing you to quickly move away to assist customers or file materials. Don't forget – it should also have a good warranty. So look at the fine print on returns and repairs before purchasing.
Desk Pedal Bike, A Mini Stationary Peddler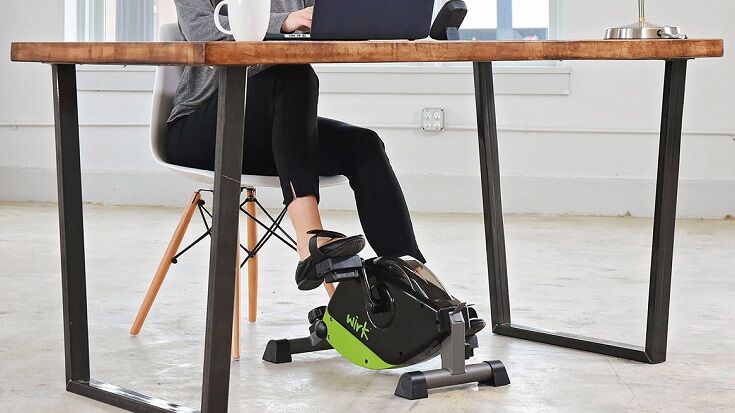 You should not mistake your desk pedal bike for a heavy-duty athletic spin cycle. The results you get from one of these little guys are more like the calories you would burn or the muscles you would build from a gentle, scenic stroll in the park. On the other hand, they frequently cost as little as one-tenth the price of one of the big, elaborate exercise machines and you can "stroll" on your desk pedal bike while your mind is engaged in other important activities. So if you cannot get away get in a formal exercise session, you can at least say that you've managed a modest cardio workout session.
Under Desk Cycle, Portable Foot Exercise Cycle for Sitting with LCD Display
An under desk cycle has the added advantage that you can use it in multiple short sessions, building up muscle over time, and loosening joints on the half-hour or hour rather than putting in hour-long heavy exercise sessions. Oh, you might want the harder, longer exercise bouts if you are working toward a marathon or other athletic challenge, but time spent treadling your under desk cycle will help keep your pedal power in shape between more serious workout sessions.
Offer
Under Desk Bike Pedal Exerciser - Desk Exercise Equipment with Magnetic Resistance - Leg Exerciser While Sitting for Office Workout or Home Fitness
SMOOTH & SILENT - DeskCycle's patented under desk bike uses premium magnetic resistance and a proper flywheel for a super smooth pedal motion. This is easier on your joints and whisper-quiet. Your coworkers and family won't even notice!
ADVANCED DESIGN - With more than twice the resistance range of other foot pedal exercisers, this mini exercise bike's 8 resistance levels range from very easy to truly challenging. Great for cardio, strength training, and physical therapy equipment.
EASY TO USE - Our desk exercise equipment is user friendly. The large 5-function LCD display tracks speed, distance & more. For easy reading, place the monitor on your table with the included display stand.
SMALL & SMART - Premium desk exercise equipment can help keep you focused, improve productivity and burns far more calories than a standing desk.
FITNESS GIFTS - Looking for thoughtful gifts for grandparents? Our mini exercise bike encourages leg exercise while sitting for seniors and is the perfect gift for anyone looking for an easy way to get more active.
Overall Consideration when Purchasing an Under Desk Exercise Bike
Some things to think about when purchasing an under desk exercise bike include:
Desk height – you want to be able to pedal without bumping your knees
Monitor availability – not all models have a monitor
Your exercise goals – an under desk model won't do everything
Warranty – quality counts here, just as much as it does for the big bikes.
Make and style of your desk chair – you might want to be able to lock the chair leg rollers
Noise level – you probably do not want to alert customers to the use of your under desk exercise bike, nor do you want to annoy co-workers with a noisy exercise machine
If you understand the limitations of an under desk exercise bike, they can be a good investment for your cardiovascular and joint health. It should be noted, that they can also be slightly distracting, but that the reduction in work productivity can be balanced out with mood improvement. One final note is that the under desk exercise bike should not take the place of other regular exercises, but that it can relieve those long hours at the office when more vigorous exercise options simply are not possible.
Highly Rated Under Desk Bikes
Summary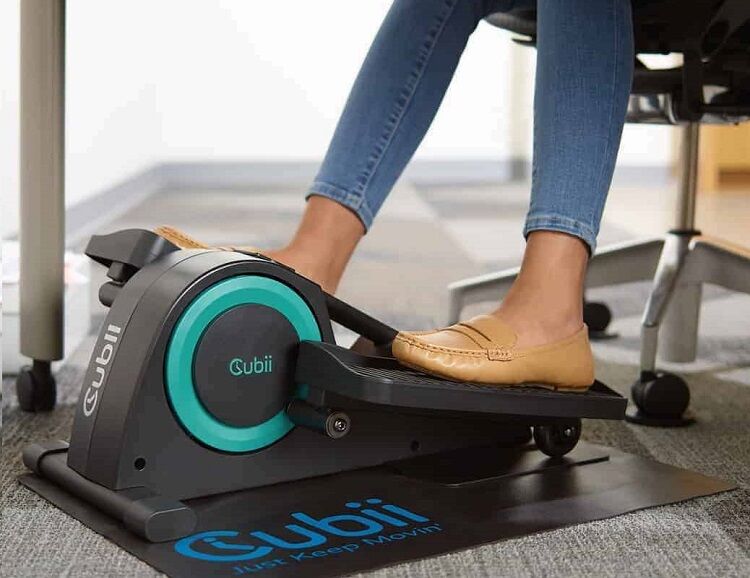 Article Name
▷ Under Desk Bike - Find the Best Under Desk Cycle Offers
Description
Your under desk bike could be the healthiest, best "under desk" sneakiness ever. There is a TikTok meme that runs something like, "Time for some sneaky business, hope I don't get caught." These memes usually involve household pets doing something they should not – like filching a sandwich or the dinner pot roast. What could be better to "sneak" under your desk than the means to get in a little healthy exercise while still attending to your "nine-to-five"? Read More >>
Author
Exercise Bikes Editorial Team
Publisher Name
Publisher Logo