Best Recumbent Exercise Bikes
Recumbent exercise bikes are the perfect solution for those who need low-impact, indoor exercise to relieve back pain, rotate joints, and engage in appropriate cardiovascular exercise. With that said, Recumbent bikes are available at a wide variety of extras and in an equally wide range of prices.
Top Rated Recumbent Exercise Bikes Offers
Recumbent Exercise Bike Benefits
There are many recumbent exercise bike benefits, as provides a way for people who are recovering from illness, surgery, back injuries, or other conditions that would keep them from high impact exercise the opportunity for cardiovascular exercise, as well as a means to build muscular strength and to keep joints mobile.
Recumbent exercise bikes are also good as an ongoing exercise tool for people with chronic conditions such as those that might cause back pain or that might make balancing on an upright bike difficult.
Best Recumbent Stationary Bikes
The Best Recumbent Exercise Bike
There are many excellent recumbent exercise bikes on the market, but the best recumbent exercise bikes include certain characteristics that make them easier and more comfortable to use. These characteristics include:
A comfortable seat with good back support
Sturdy frame that will support the active weight of the user
Balance handlebars on either side of the seat
Caged pedals to prevent food slippage during use
Step through mounting design
Magnetic resistance for easy adjustment
Adjustable seat and handlebars for a comfortable fit
Pulse, heartrate, or even breathing monitors
Easy to read monitor to gauge progress during a session
Added Fun Characteristics of a Recumbent Stationary Bike
While the above list covers the essentials of a good recumbent bike, there are some added features that can increase your enjoyment of your recumbent stationary bike. These include:
Bluetooth or other connection to your phone or tablet to enable access to training programs, coaching, or fun stationary bicycle events that can even involve other people.
Built-in training or coaching programs accessed through the attached monitor
Whisper quiet during operations – you get this with belt-driven or magnetic resistance bikes
Super comfortable seat
Adjustable back support
Water bottle holder
Media holder
The right recumbent stationary bike or subscription to the right indoor bicycling app can allow you to challenge yourself to varying levels of cycling achievement, take virtual bicycling tours around the world, or participate in real-time competitions against cyclists at your level. Some apps even connect you one-on-one with a personal coach or trainer – possibly even with your medical advisor.
Recumbent Exercise Bike for Back Pain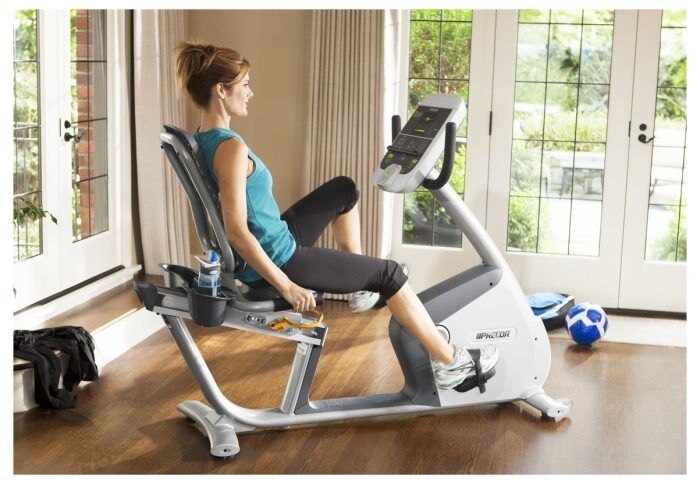 A recumbent exercise bike is a good choice for people who have back pain regardless of the cause. A recumbent bike's seat is designed to give good back support. Instead of balancing on top of a stem and pushing down, the rider is supported in a chair-like seat, and they push out with their feet rather than down.
You might wonder if this pushing out rather than down is good exercise. It is. Somewhat different muscles are used from those employed with riding an upright bike, but it is still exercised. It certainly qualifies as cardiovascular exercise since that applies to any activity that will raise your heart rate and respiration to a given amount and allow you to keep them at that level. A recumbent bike will also help keep ankle, knee, and hip joints supple without placing weight upon them. Since the core is less involved, a recumbent bike is a gentle way to bring muscles back up to strength after surgery or a long illness. But do not fear that your bike will become less valuable after you are back to normal. Recumbent bikes are still good exercise for anyone.
Selecting a Recumbent Bike for You or a Loved One
When selecting a recumbent bike for you or for someone else – a family member or a friend – it is always a balancing act between cost and features. The first list above contains essential features. You do not want to cut corners on those. It is absolutely imperative that the frame be strong enough to support the rider, the seat needs to be comfortable, and the bike should be able to adjust to a comfortable fit for the person who is going to need it the most.
While it is tempting to purchase a recumbent exercise bike that comes with a subscription bundled in, you can always add apps that provide fun activities later. All that is truly needed is the basic monitoring device. Everything else is window dressing. If your bicycle has a Bluetooth or a USB plug that will allow you to connect to a cell phone or tablet, you can always add the fun applications later.
One thing you might want to add to the essential list is a good warranty. The frame should have a lifetime warranty, parts and labor should be for at least six months, and a year is better. At a very minimum, the bike should have a thirty-day return window in case something is broken during delivery, or in case there was a manufacturing error.
Summary
Article Name
Best Recumbent Exercise Bikes 2022 - Recumbent Exercise Bike Benefits
Description
✅ Recumbent exercise bikes are the perfect solution ✅ for those who need low-impact, indoor exercise to relieve back pain, rotate joints, and engage in appropriate cardiovascular exercise. With that said, Recumbent bikes are available at a wide variety of extras and in an equally wide range of prices. Learn More ✍
Author
Exercise Bikes Editorial Team
Publisher Name
Publisher Logo