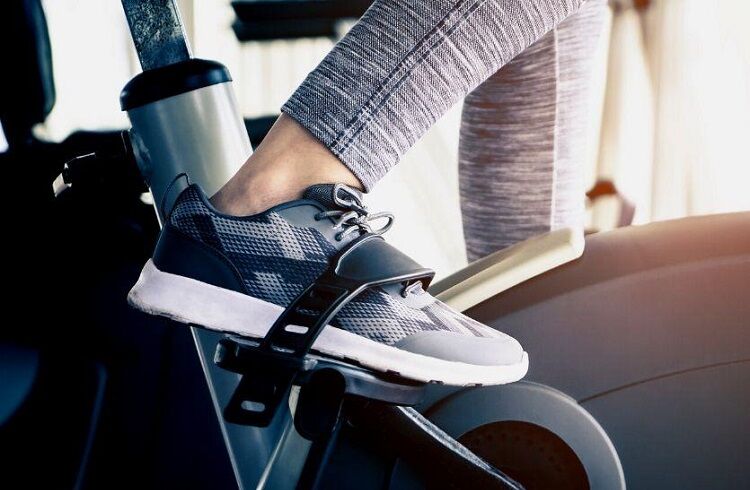 Exercise Bike Pedals Are A Key Component Of Your Cycling
Exercise bike pedals are no big deal, right? You put your foot in the pedal and you go, right? Well, think again. In order to have a smooth pedal stroke, you want a good pair of pedals that has either clips or straps. If you're aiming to take your cardio workout to a higher level, then the pedals are part of that plan. There are exercise bike pedals that offer a winning mix of features that will up your workout prowess. There are four different types of exercise bike pedals that an exercise bike might have: flat or platform pedals; toe clip (or cage); clipless; and dual-sided. Finding out more about the pedals is another way to enrich your regimen and improve your fitness.
The Purpose Of Exercise Bike Pedals With Straps
Exercise bike pedals with straps let a cyclist transfer power from the legs to the pedals during both the pushing down and pulling up stages. Without straps, a cyclist can only transfer the power to the pedals during the down movement. Cycling isn't a random sport or form of exercise. There's a purpose behind the design.
What Are The Best Exercise Bike Pedals?
The best exercise bike pedals are those that suit your needs and, as mentioned above, there are four different types of exercise bike pedals.
1/ Flat pedals have been around since the modern bicycle was first developed in the 19th century. They're familiar because they're likely the ones you had when you first learned to ride a bike in your younger days. Some exercise and spin bikes have flat pedals and you could, if you choose, install them on your home bike.
2/ Toe clip or toe cage pedals showed up in the early part of the 20th century as a solution for shoes that slipped off the pedals. Even then, racers were searching for a pedal that would conserve energy for the time when they'd really need that extra burst. This style of pedal clips in at the pedal front. The frame, nylon or steel, wraps over the top of your show back to your ankle; a strap adjusts around your shoe to keep your foot in place. By pulling during the upstroke of each pedal cycle, the cyclist has a mechanical advantage.
3/ Clipless pedals, contrary to what the name seems to indicate, are designed for the shoe to clip into it. These exercise bike pedals are favored for cyclists engaged in road or racing bikes.
4/ Dual-sided pedals are seen more often these days, particularly on spin bikes.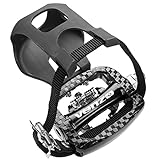 Venzo Fitness Exercise Indoor Bike Compatible with Shimano SPD Pedals with Toe Clips & Cleats
GREAT FOR SPIN BIKES: The pedals are specially designed for spin bikes. Strong material: Die-cast aluminium body, Extra heavy-duty oversized CNC Cr-Mo 9/16" Axle; Smooth-riding: sealed bearings. Friendly reminder: Please do NOT use other pedals such as road or MTB pedals on spin bikes.
DUAL FUNCTION: Riding with clipless shoes: More efficient energy transfer to pedals or ride with casual shoes. LARGE PLATFORM: The aluminium body is 105 x 78mm relatively large. It ensures more riding stability.
FULLY COMPATIBLE: Compatible with all for Shimano SPD MTB pedals systems. This means you can use for Shimano SPD cleats on these pedals or use these cleats on for Shimano SPD pedals.
ADJUSTABLE TENSION: The cleat's tension could be adjusted by the screw on the side of the pedal. It allows riders to achieve perfect clip in and out feelings. Package: One set of pedals with toe clips and cleats. Total Weight: 744g=1.6lbs /pair.
ORDER NOW, WORRY-FREE! We're so confident about our product quality that we can provide a 2-year warranty! Made in Taiwan.
Things To Consider When Researching Stationary Bike Pedals
There's a pedal vocabulary that's important to understand as you examine the different options for stationary bike pedals when choosing what's the right one for you.
Pedal Float refers to the amount of angular rotation that's allowed for the foot when it's on the pedal. Some systems hold the foot at a fixed angle, while others allow a fixed amount of float. There are some systems which allow for ranges of float that can be customized. The amount of float that you prefer will likely evolve as you become more experienced at cycling and have a stronger sense of what's right for you.
Multiple-release cleats release more easily than the standard cleat that releases laterally. The multiple-release cleats let your heel move either in or out, and even upward. In cycling, that added flexibility can add to your comfort and control as you cycle.
Why Are Spinner Spin Bike Pedals Important?
Spinner spin bike pedals are very important for cyclists because they provide the support that you need so that you can keep your feet from slipping off. Spinner Spin bike pedals consist of a steel cage, reflectors, and a body that's reinforced with nylon. The construction of the spin bike pedal gives it the durability to withstand wear and tear so that you don't have to bother with constantly replacing them. An extra bit of advice: select pedals that have a smooth bearing for less maintenance. You want pedals that are light in weight; they're easier to use. If you're new to spin bike pedals, you want to pay attention to the differences in the weights, as they may not be immediately apparent.
The Popularity Of Bike Pedal Straps
Because they're more comfortable than toe clips or cleats, bike pedal straps have become a favorite of bikers. There are many to choose from, and it's not hard to find good quality. Many cyclists make their choice based on affordability and still come out ahead, with straps that keep their feet secure on the pedal.
Still, think that exercise bike pedals are no big deal? As you can see, a lot of thinking goes into the selection. Choose the pedals that are right for your comfort level and your exercise goals. Your feet are going to get you to where you want to be.
Summary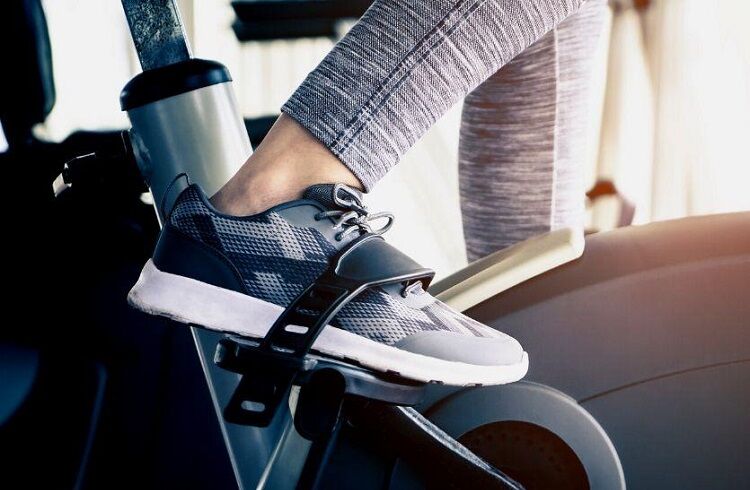 Article Name
▷ Exercise Bike Pedals 2021 - Find the Best Spin Bike Pedals Offers
Description
Exercise bike pedals are no big deal, right? You put your foot in the pedal and you go, right? Well, think again. In order to have a smooth pedal stroke, you want a good pair of pedals that has either clips or straps. If you're aiming to take your cardio workout to a higher level, then the pedals are part of that plan.
Author
Exercise Bikes Editorial Team
Publisher Name
Publisher Logo