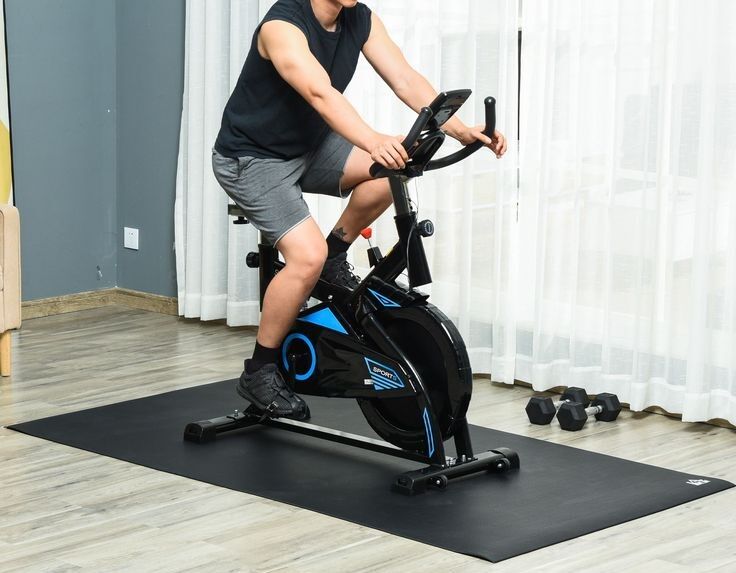 Exercise Bike Mats Add Support To Your Cycling And Protection For Your Flooring
It's easy enough to think of exercise bike mats as something that would go under you during a workout, but exercise bike mats are an important addition to your equipment. The concept is simple enough: the mat, also known as a floor mat, is placed under the base of your exercise bike. If your exercise workout takes place in a carpeted area, the bike can create prints and depressions in the carpet, which over time, strains the weave of the carpet.
An exercise bike mat serves multiple purposes as it provides balance for your bike, reduces noise, adds cushioning, and shields the floor. If you exercise with a spin bike, you know what a great workout you get. But those assets that make for such an intense regimen—the heavy steel flywheel, for example—also lead to dust building up or spillage on the chain drive. If you work out on a spin bike, you need to include a spinning bike mat as an accessory in order to avoid damaging both the bike and the floor beneath it.
That latter consideration isn't a minor one; you want to be able to throw yourself into your workout, but if that means subjecting your floors to scratches, dents, and even gouges, then a protective layer in the form of a bike mat is a necessary purchase. There are various kinds of exercise bike mats; choosing the one that suits your exercise bike and your exercise location can be determined after you consider the choices available.
How To Identify The Best Stationary Bike Mats
Concentration is one of the hallmarks of a thorough workout. When you're pedaling on your exercise bike, you don't want to be distracted by concerns that scratches from the bike are digging into the floor. The best stationary bike mats go between your exercise equipment and the ground, to protect your floors from scratches or dents caused by your bike. But a good bike mat is also essential to help stabilize your bike, to prevent it from slipping or sliding around during your workout.
Why You Might Choose Rubber Mats For Exercise Bike Workouts
A rubber mat for exercise bike workouts that can absorb the shock and vibration is sufficient; a high-density, durable PVC rubber mat is capable of supporting the equipment's weight, without letting the floor suffer any harm. Quality matters, though. While an exercise bike mat provides stability for your bike during your workout so that your actions don't lead the bike to slip as you're pedaling, the mat doesn't have to be thick. In fact, a thinner mat for an exercise bike might be preferable because it's easier to store.
Highly Rated Folding Exercise Bikes
Exercise Bike Mat For Carpet Protection
If you exercise on carpeting, you have the benefit of that extra layer of cushion beneath your bike, but you still need an exercise bike mat for carpet protection if you want to protect the carpet from wear and tear caused by the stationary bike. A thin, high-density material mat can take care of that for you. You don't need extra cushioning because the carpet is already in place and provides that. Some people are particularly fond of the thinner, more versatile mats because they work well with an overall fitness routine that might include other exercise equipment, maybe a treadmill, or even yoga.
Texture Considerations For The Best Exercise Bike Mat
The texture is important when considering what best exercise bike mat to purchase. You don't want a stationary bike mat that slips and slides as you're working out, so choosing a mat that can grip the floor beneath it is definitely something to consider when making your purchase. Again, thinking of the versatility of the mat, if it's dual-sided, with texturing on one side and smoothness on the other, it can also do double duty as a yoga mat.
There's a lot of movement involved with an exercise bike, especially if you opt to exercise in different places and frequently move your bike from one place to another. If your bike doesn't have transport wheels, the floor can pay the price. Whether you own your own home or you rent your apartment, you don't want your physical fitness efforts to damage your living space. Choosing the right mat, made of the right quality, lets you fully engage in your workout because you're not worried about scratches on the floor or wearing on the carpet.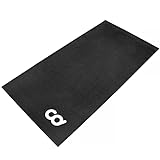 CyclingDeal Bike Mat - 30" x 60" Soft - Compatible with Indoor, Exercise Stationary Bike, Elliptical, Gym Equipment Waterproof Mat Use On Hardwood Floors and Carpet Protection (76.2 cm x 152.4 cm)
APPLICATION: SIZE - 30" x 60"/76.2cm x 152.4cm - Soft version. Made of all-new material with 7mm thickness PVC, soft new PVC without odour. This mat is great for heavy spin bikes, treadmills, recumbent bikes, rowers, steppers, upright and stationary bikes, and other cardio exercise units that can protect your carpet or floor from dirt, vibrations, and tear.
NON-SLIP: The mat stays firmly on the tiles, floors or carpets. Prevents stationary bike or trainer from slipping whilst in use. As the mat is made of new material, it will not leave any marks on the floor after use. The soft material also means this mat is also ideal for body stretching before and after exercise.
WATERPROOF: The mat is 100% waterproof. It prevents sweat or water drops from damaging the carpet and wood floors. It is also very easy to clean.
DURABLE & QUALITY: The thick 7mm mat is great for absorbing vibration during workouts. The mat's quality hardened top layer is great for stepping on while wearing cycling shoes with cleats, compatible with most indoor exercise stationary bikes.
ORDER NOW, WORRY-FREE! We're so confident about our product quality that we can provide a 2-year warranty! Please Note: There is a light smell for all new PVC mats in the closed carton, but it'll disappear in a few minutes. (Spin bike NOT included).
Summary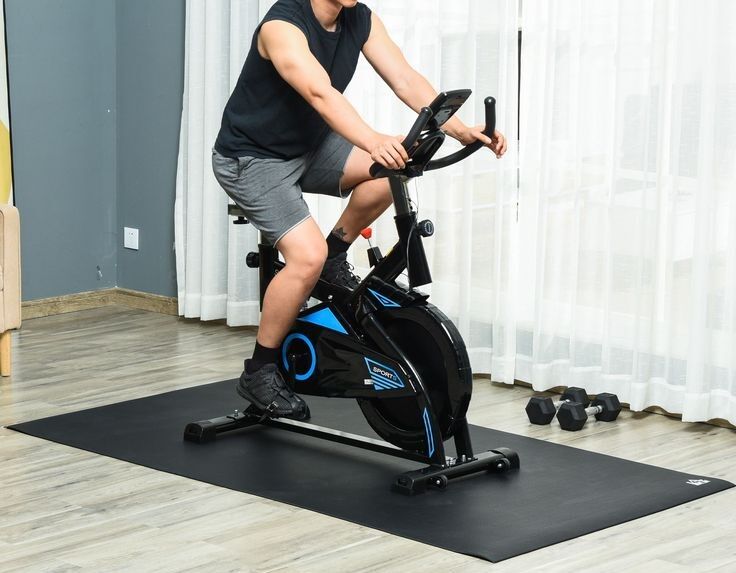 Article Name
▷ Exercise Bike Mats - Find The Best Stationary Bike Mat
Description
It's easy enough to think of exercise bike mats as something that would go under you during a workout, but exercise bike mats are an important addition to your equipment. The concept is simple enough: the mat, also known as a floor mat, is placed under the base of your exercise bike. If your exercise workout takes place in a carpeted area, the bike can create prints and depressions in the carpet, which over time, strains the weave of the carpet. Read More >>
Author
Exercise Bikes Editorial Team
Publisher Name
Publisher Logo