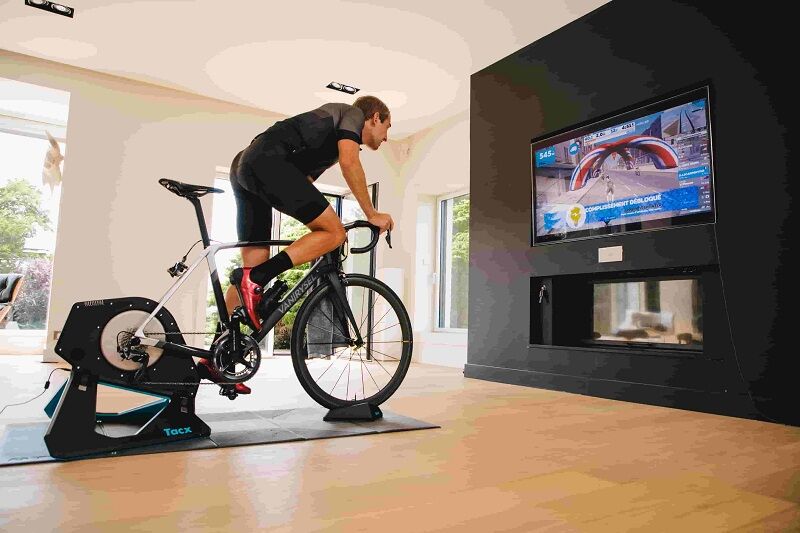 Smart Bike Trainers
A smart bike trainer allows the user to employ their regular street bike or a dedicated street bike as a stationary, indoor exercise bike. Bike trainers come in two essential types: the on-wheel, and off-wheel. There might, in the not-too-distant future, be a third type of trainer that will efficiently generate enough electricity to charge small electrical appliances such as phones, laptops, or even a small lamp.
Advantages of using a smart bike trainer include not having a separate exercise bike to store as well as your street bike, the trainers are generally more portable than an exercise bike, and being able to retain muscle training that goes with your regular bike.
Highly Rated Smart Bike Trainers
Best Smart Bike Trainer
Your best smart bike trainer is one that will fit your lifestyle. If you want the ability to ride your regular bike to work or play, or just out-of-doors with the wind in your hair, then your best smart bike trainer is going to be one that allows you to pop your bike onto a frame and allow your rear wheel to turn a resistance drum or "smart trainer" to interact with a programmable unit that will simulate various street riding challenges.
But if you prefer to use your bike as a winter exercise machine, and are willing to take off the rear wheel, then you can hook the chain drive directly to an interactive trainer. Each style has advantages and disadvantages.
Indoor Bike Trainer Stand
The wheel-on indoor bike trainer stand can be ready to go in minutes and does not necessarily require disassembling any part of your bike. However, it can cause extra wear to your rear wheel. You can get special wheels, but that puts you back to disassembling a part of your bike to use the trainer.
Tacx Flow Smart Trainer
A Tacx flow smart trainer is easy to use and can easily fit in the trunk of your car while your bike rides in a frame on the back. This makes it easy to park your four-wheeled road vehicle at your hotel or motel and take your two-wheeled vehicle touring around the local sights – perhaps while your four-wheeled vehicle is charging up its electric batteries in preparation for the next leg of your journey. If bad weather is keeping you indoors, you can turn to your indoor trainer to avoid interrupting your exercise habit. This can work just as well for the home-user who is in the habit of taking a turn around the neighborhood each morning, but who prefers not to do it when the weather is unpleasant.
Tacx does not work well with Zwift but has its own programming cassette.
Smart Trainer for Zwift
A good smart trainer for Zwift is one that connects directly to the drive chain of you bike. This means that you need to be mechanically handy, or you need to be willing to dedicate a bike to indoor training. You will also want a desk or stand to hold your phone or laptop at a good visual angle while using your bike.
Best Indoor Bike Trainer
The best indoor bike trainer is one that suits your lifestyle. If you want to be able to use your regular bike off the trainer as well as on, you might prefer a stand such as the Tacx. While you lose some efficiency, it does have the advantage of using friction resistance.
On the other hand, if you are willing to park your bike for the inclement weather season, you might prefer one that connects directly to the drive and uses a program such as Zwift for that realistic ride feeling.
Offer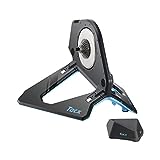 Garmin Tacx Neo 2T Smart Trainer
Material: metal, plastic
Resistance: magnetic (32 Neodymium magnets)
Foldable: yes
Wireless: ANT+, Bluetooth
Operating System: iOS, Android, macOS, Windows
Charge Up Your World
If you are willing to wait for a plan to reach fruition, there is currently a trainer in Indiegogo production that will charge a portable battery. The battery is capable of charging your phone or your laptop, giving you connectivity options for times when the power is out. No, it won't power up your entire house (you would need a classroom full of cyclists for that) but it could give you an alternative to hand cranking an emergency radio in times of crisis, or just give you a portable battery that got powered up with clean energy created by your muscles. Even if this Indiegogo does not make it, the idea is out there, and someone is likely to develop it.
Advantages of Trainers vs. Exercise Bikes
You might be wondering why to use a trainer instead of an exercise bike. There are a variety of reasons. One of the biggest is storage, another is using one pedal-driven object instead of two, consistency of placement for handlebars and ease of developing good posture are a couple more. As it happens, the cost is not a factor. A good trainer is about on par with smart spin bikes.
Summary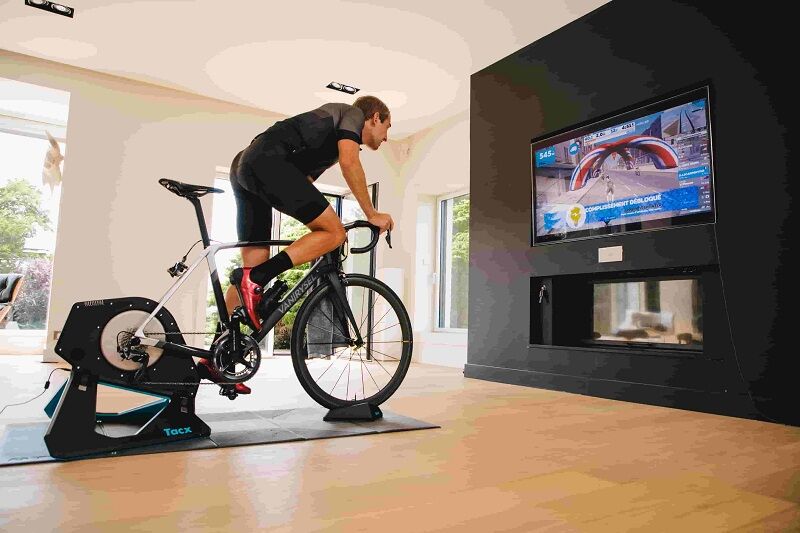 Article Name
▷ Smart Bike Trainer 2022 - Best Indoor Bike Trainer Stand
Description
A smart bike trainer allows the user to employ their regular street bike or a dedicated street bike as a stationary, indoor exercise bike. Bike trainers come in two essential types: the on-wheel, and off-wheel. There might, in the not-too-distant future, be a third type of trainer that will efficiently generate enough electricity to charge small electrical appliances such as phones, laptops, or even a small lamp. Read More >>
Author
Exercise Bikes Editorial Team
Publisher Name
Publisher Logo