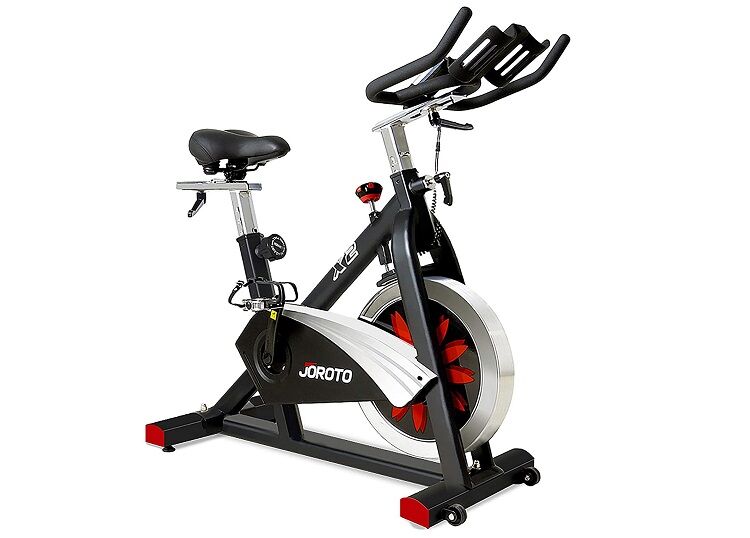 All Your Questions Answered In This JOROTO Belt Drive Indoor Cycling Bike Review
You may not expect to hear mention made of a sleeping baby when reading a typical JOROTO Belt Drive Indoor Cycling Bike review, but this exercise bike boasts of delivering a nearly silent workout. How silent is that? So silent that it won't wake up a sleeping baby. Now that's silent! The JOROTO exercise bike owes its hushed sounds to the magnetic resistance and belt drive system that's designed to keep things quiet while you exercise. Don't think that silence means nothing is going on, however. This powerful spin bike packs power from the handlebars to the pedals, with features that support all the effort that you're putting into a transformative workout. You don't need to buy a Peleton to achieve high-quality results when a JOROTO X2 will bring you to that same performance level for a sale price of $399.
Best Offers JOROTO Belt Drive Indoor Cycling Bike
Basic Specs And Features Of The JOROTO X2 Spin Bike
| | |
| --- | --- |
| Brand | JOROTO |
| Model | JOROTO X2 |
| Min Seat Height | 27.5″ |
| Max Seat Height | 36.2″ |
| Weight capacity | 300 lbs |
| Handlebar Height Range | 43.3″-48.4″ |
| System | Belt Drive |
| Resistence | Magnetic |
| Power Requirement: | Battery (included) |
JOROTO X2, Safety And Convenience Are Yours
Safety is built into the JOROTO X2. It's there in the emergency brake and the tube bump of the handlebar adjustment mechanism. If your exercise bike is going to be used in different parts of your home, you'll be glad that the model comes with two transportation wheels for easy moving. But what about when the JOROTO X2 is in motion? The four horizontal adjustment knobs beneath the front and rear stabilizers keep the bike steady no matter what surface you're cycling on. With an AV frame, a 35-pound chromed flywheel, and a 50mm thick frame tube, you can pedal like you're wearing the Tour de France yellow jersey.
JOROTO X2 Spin Bike Adjusts For Comfort
Not a problem with the JOROTO X2 spin bike for adjusting your seat and handlebars during your workout: both seat and handlebars are 4-way adjustable to accommodate different heights. And once you've got the seat positioned to your liking, 'you also have the steel toe-caged pedals that have adjustable straps so that shoes of different sizes can be comfortable as well. The adjustability extends to the resistance; all you do to adjust the resistance is to give the knob a simple twist and you're on your way to the workout that's right for your level of fitness.
The JOROTO Belt Drive Indoor Cycling Bike Review Highlights The JOROTO X2 Features
The main JOROTO X2 features are 42.9 inches in length, 19.2 inches wide, and 42.5 inches high. Weighing 94 pounds and supporting 300 pounds, the JOROTO X2 features a galaxy of features to provide an out-of-this-world exercise experience. The magnetic resistance system delivers a smooth ride by increasing the magnetic field resistance; you control the intensity level of your workout with a multi-control resistance switch. The stable, quiet, "nearly silent" ride is the product of the belt drive system and bidirectional, solid steel flywheel. The functional digital monitor and holders keep cyclists aware of the time, distance, speed, and calories burned as you proceed so that you'll stay on your pace and keep your motivation steady. With the 2 large groove holders and 2 built-in triangle supports, you have a holder that can handle everything you'll need during your workout: cell phone, tablet, hand weights, and of course, the water bottle.
It's not surprising that when a JOROTO Belt Drive Indoor Cycling Bike Review is offered by a satisfied customer, the features of the JOROTO X2 remind users of a Peleton, but at a significantly lower price. That performance reflects the JOROTO commitment to quality; the company has designed an indoor cycle bike that functions like a personal trainer. Whether you've gone the stationary bike route in order to develop a home cardio regimen or you're relying on the spin bike to provide you with a gym workout, you're going to find satisfaction in the progress you make toward your fitness goals.
JOROTO X2 Assembly Guide
Watch this JOROTO X2 Assembly Guide video and read these quick instructions and you'll be on your way. Love your Ride!
Customer Satisfaction Comes With The JOROTO Exercise Bike
With three decades in the international fitness industry, JOROTO exercise bike has learned a lot about how to deliver customer satisfaction. You have a one-year replacement deal for replacement parts, a JOROTO customer support team that responds to your messages within 24 hours, and 100% customer satisfaction. The package also comes with tools for easy assembly and an extra nut for the pedals if they need fixing. JOROTO Belt Drive Indoor Cycling Bike reviews affirm the reliability of JOROTO customer service. You can see why the JOROTO exercise bike is so popular for people who want to get in shape and stay there; they want a company they can rely on to deliver a high-performance workout.
Buy it now with this Amazon offer!
JOROTO Exercise Bikes Best Offers
Summary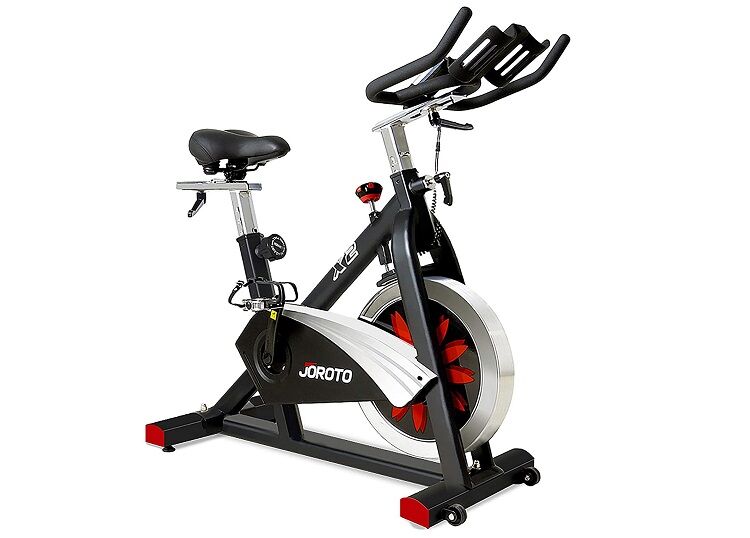 Author Rating





Brand Name
Product Name
Price
Product Availability