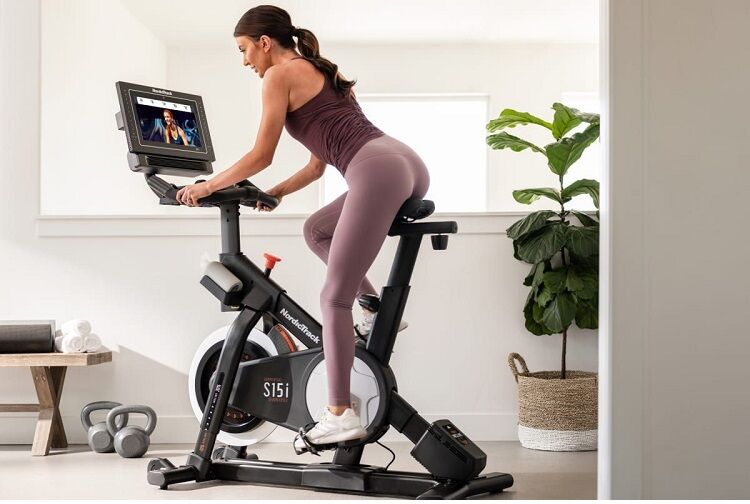 Commercial S15i Studio Cycle, the Perfect NordicTrack Indoor Cycling Bike
The Commercial s15i Studio Cycle is a good buy both for home users and for those who are furnishing a commercial exercise studio. In this review we will look at its best, better, good, and worst features. Rest assured there are not many items to discuss under the last and a lot to look at under the first, second, and third categories. So, let us get going on discovering the many features of this excellent upright exercise bike.
Specs And Features Of Nordictrack S15i Studio Cycle
| | |
| --- | --- |
| Brand | Nordictrack |
| Model | S15i |
| Bike Dimensions | 55.75" L x 22" W x 61" H |
| Max User Weight | 350 lbs. |
| Seat Adjustment | Padded and adjustable |
| Fitness monitor | 15 inches Interactive HD Touchscreen Display streams live & on-demand iFIT |
| System | Magnetic |
| Resistance | 24 SMR Silent Magnetic Resistance Levels |
| Flywheel | Inertia-enhanced Flywheel |
Best Offers Commercial S15i Studio Cycle
Best Nordictrack Commercial s15i Features:
Digital and electronic goodies: Some of the best features have to do with improvements made for 2021. The 14" HD screen (always a good feature) has an improved graphics package and augmented processor cooling. In addition, it has improved WiFi speed and allows connection to Bluetooth devices. This improves its already fantastic perk of having a free one-year IFit membership, which goes right along with having the iFit mobile app-enabled so you can track all your fitness activities, especially since the screen swivels so you can easily see it when engaged in other activities.
Excellent physical and mechanical Attributes: All those electronic doodads would not mean anything without the super-strong frame – which will support a person weighing 350 pounds while actively using the bike (impact does count). In addition, the magnetic resistance flywheel is whisper-quiet, which means it should not wake the baby or upset that cranky neighbor who knows if you tiptoe across the floor. That it comes with 22 digital resistance settings doesn't hurt either.
Unique Ability. Someone was really thinking about inclement weather fitness for cross-country bicyclists. The NordicTrack S15i has the ability to mimic a 20% incline and a 10% decline. Talk about simulating reality! This feature works great with some of the iFit programs, especially the cross-country virtual tour features.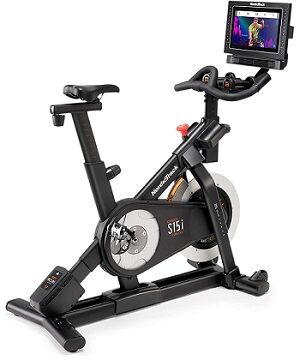 Better: These are little perks, that just make life better.
Connect with Google Maps Street View feature to ride your bike anywhere in the world – right from your living room.
Convenient touch screen controls so you can change things up without interrupting your ride.
Inertial flywheel for a smooth ride
A comfortable (by most users standards) seat to make exercise time more pleasant
Good NordicTrack S15i features: And a few more little perks.
You can hook in your Bluetooth headphones.
The HD screen tilts as well as swivels so you can adjust it for your comfort.
Adjustable seat and handlebars
Eligible for Amazon added warranty
Worst: It's the warranty. Yep. That's right.
Ten Year warranty on the frame
Two year warranty on parts
One year warranty on labor.
At least they've got a warranty, right? Some models offer a lifetime warranty on the frame. The labor warranty is pretty standard. Parts? Well, that could be an availability issue. Time marches on…
In addition to the warranty:
Some users experienced poor Norditrack support service response
Pedal quality – some users reported a snapped pedal after three months of use
iFit – another users seemed exceptionally displeased with iFit, saying that they did not live up to their "live training" promises.
How does it stack up Commercial S15i Studio Cycle against other exercise bikes: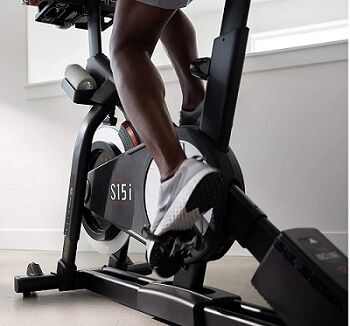 In a side-by-side comparison, NordicTrack Commercial S15i Studio Cycle vs S22i (also from Nordic Track) stack up as being pretty similar. The biggest difference is that the S22i has a bigger screen than the S15i. The other difference is that the NordiTrack S22i costs about $400 more. Now, maybe I'm the crazy one here, but to us, that is a lot of cash for a difference in screen size. But let's put that into perspective.
You can also compare the S15i and the S22i with the Peleton bike that has a 22 inch screen. Peleton was a pioneer in streaming live classes, which is pretty cool. You will see quite a price jump, to the tune of more than $600, between Peleton and Nordic Track bikes. NordicTrack uses iFit (as previously mentioned) which does not do live classes. It does, however, do an around the world survey of bike trails which is pretty cool. More than that, Nordic Track has the incline/decline feature which is not a part of the Peleton repertoire.
With all of that said, the Nordic Track S15i is a decent package. You get a lot of bang for your buck, and limited though it might be, it does have a warranty. One user asked if it was worth paying for the iFit after the first year, to which another user pointed out that you can watch videos while you pedal and do it at any time. More than that, there is the Google Maps Street View feature, which is native to Google and can also be done at any time.
Buy it now with this Amazon offer!
Reccomended NordicTrack Offers
Summary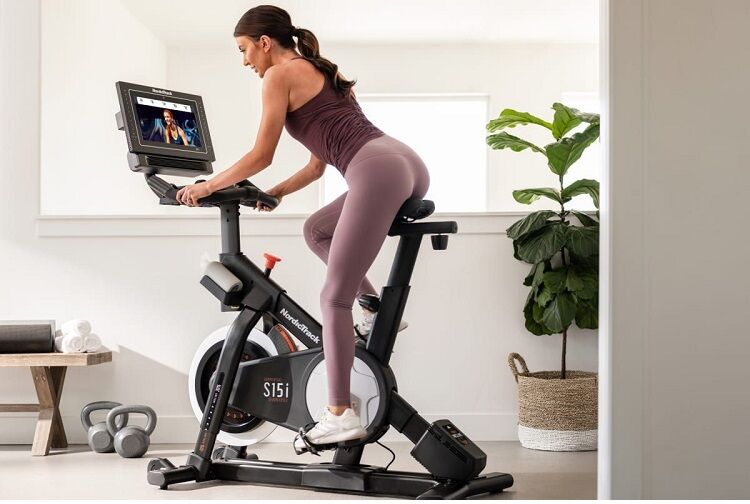 Author Rating





Brand Name
Product Name
Commercial S15i Studio Cycle
Price
Product Availability