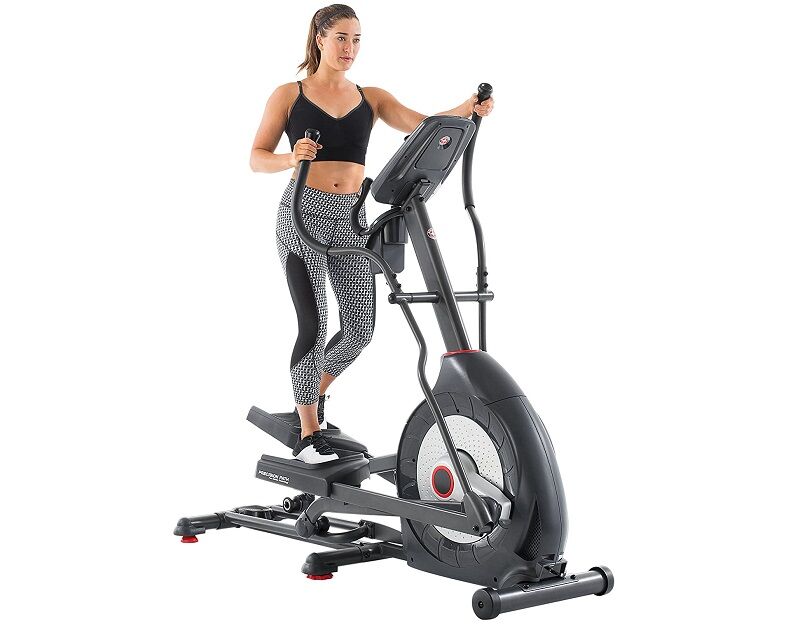 The Schwinn Fitness 430 Elliptical: Getting More And Paying Less For Your Exercise Equipment
Affordability is not the only attribute of the Schwinn Fitness 430 Elliptical, although anyone in the market for exercise equipment will be glad that this purchase will cost under $800. With its 22 workout programs, 20 levels of magnetic resistance, a 20-inch stride length, the ability to save 2 user profiles, and the capacity to support 300 pounds, the Schwinn 430 offers an excellent opportunity for physical fitness.
Schwinn Fitness 430 Elliptical

| Features and Specs

We prepared a list with the best and main Schwinn Fitness 430 Elliptical model Features and Specs.
| | |
| --- | --- |
| Brand | Schwinn |
| Model | 430 Elliptical |
| Incline Levels | 6 incline positions (adjusted manually) |
| Resistance | 20 levels – Magnetic resistance |
| Preset Workouts | 22: Heart rate control, Custom user defined, Quick Start, Fitness Test |
| Max Capacity | 300 lbs |
| Screens | 2 DualTrack LCD displays |
| Step-Up Height | Max pedal height: 26" at full incline and 21" at lowest incline |
| Warranty | 10-year frame, 2-year parts, 1-year electronics, 90-day labor |
Best Offers Schwinn 430 Elliptical
Offer
Schwinn 430 Elliptical
Goal Track capability enables users to set individual exercise goals by tracking time, distance and calories to compare with previous workouts
20 inch stride with Precision Path foot motion technology simulates a natural running motion
High speed, high inertia drive system offers easy start-up and smooth, quiet workouts
Large cushioned footplates contribute to comfortable, low-impact workouts
Ergonomically placed moving and fixed handlebars provide flexibility for hand placement
Best Offers Schwinn Models
The Manual Adjustable Incline And The Schwinn 430 Elliptical
With its 20 levels of magnetic resistance, the Schwinn Fitness 430 Elliptical provides users with a way to vary their workout's intensity level. There are 6 levels of manual adjustable incline; in order to make the process less cumbersome, you'll probably want to set the incline prior to starting the workout.
Here's An Elliptical With a Comfortable Workout Experience
A lot of effort goes into a successful workout. But comfort is a necessary part of a workout that becomes part of a daily routine. The Schwinn Fitness 430 Elliptical has accessories that enhance your own personal comfort while you're working out. There's a water bottle holder so that you stay hydrated and a 3-speed cooling fan to keep yourself comfortable during your exertions.
Track Your Data And Monitor Your Results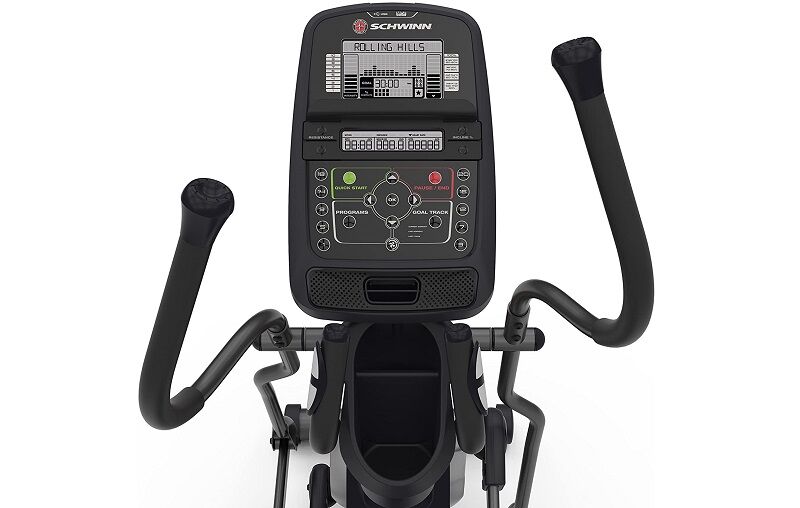 Sweat and muscle are timeless features that deliver results from maintaining a workout regimen on a regular basis. However, physical fitness today utilizes technological advances that add useful information on your health and the progress of your workouts. The Schwinn Fitness 430 Elliptical's 22 workout programs add variety to your workout so that your exercise continues to challenge you. If your fitness ambition is to have a large workout library from which to choose, these preprogrammed workouts will keep you moving toward your goal.
Tracking the metrics of your workouts is a useful way to continue to gauge your progress toward improved health and fitness. Whether you're striving to lose weight, increase muscle tone, or improve your stamina, knowing how you've performed in the past will establish a solid foundation for future endeavors. The Schwinn Fitness 430 Elliptical will let you save 2 separate user profiles so that you can keep and analyze your statistics.
Devices and Accessories And The Schwinn Fitness 430 Elliptical
The Schwinn 430 works in harmony with other devices. While you're working out, you can plug your phone or MP3 player into the USB port to charge. If you plug those devices into the audio jack, you'll work out to music through the built-in speakers.
The 20″ Precision Path Stride Of The Schwinn Fitness 430 Elliptical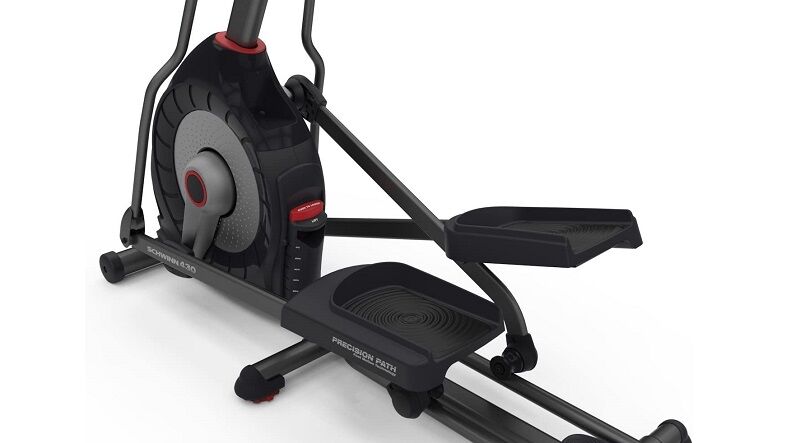 The elliptical's stride length is a very important specification that needs to be reviewed when you're considering whether the Schwinn Fitness 430 Elliptical is the right one for you. The stride is what tells you how far the pedals move away from each other during the workout. It also reveals how comfortable you will be as you use the elliptical. You won't have a comfortable workout if the stride length is too short; it will make you feel as if you're jogging in place. The higher-end ellipticals typically have stride lengths ranging from 20 inches to 22 inches, which lets them accommodate users who are taller in height. It's useful to know that this Schwinn model, although in a price range that would usually have the 16-inch to 18-inch stride length, boasts a stride length of 20 inches.
An Inexpensive Elliptical With High-End Features
The Schwinn Fitness 430 Elliptical may not be the most advanced elliptical on the market, but its affordable price is impressive considering how many features it has that are more commonly found in the more expensive models. If you want to get more while paying less, you'll like what you get with the Schwinn 430.
Assembling An Elliptical Machine For Home
Exercising at home offers a number of advantages for someone who's eager to develop a consistent fitness program. If you're holding off on buying your Schwinn Fitness 430 Elliptical because you're worried that the assembly will be difficult, rest assured that Schwinn provides a manual that is illustrated with large images and a process that's easy to follow. You might want to have a friend at hand when it's time to attach the stabilizer legs in order to make assembly go more smoothly. You can expect the complete assembly process to take about an hour.
The Importance Of The Flywheel In Schwinn Elliptical Machines
In many respects, the theme of your workout depends upon the flywheel, that piece of the equipment that creates the resistance that you're pedaling against. The magnets in a magnetic resistance system are moved closer to or farther away from the flywheel to create the resistance that defines your workout. A flywheel weight of 20 pounds or more should be sufficiently heavy to give you the workout that you're seeking. Although the flywheel on the Schwinn Fitness 430 Elliptical is 17.3 pounds, less than the 20 preferred weight, it's still a respectable weight for an elliptical in this price range.
The Schwinn Fitness 430 Elliptical warranty inspires confidence in the quality of this product: a 10-year frame warranty; a 2-year warranty on parts; a 1-year warranty on electronics; and a 90-day warranty on labor. The warranty, like many of the other attributes of the Schwinn 430, offers more than you'd expect for a budget-model elliptical.
Buy it now with this Amazon offer!
Offer
Schwinn 430 Elliptical
Goal Track capability enables users to set individual exercise goals by tracking time, distance and calories to compare with previous workouts
20 inch stride with Precision Path foot motion technology simulates a natural running motion
High speed, high inertia drive system offers easy start-up and smooth, quiet workouts
Large cushioned footplates contribute to comfortable, low-impact workouts
Ergonomically placed moving and fixed handlebars provide flexibility for hand placement
Best Offers Schwinn Models