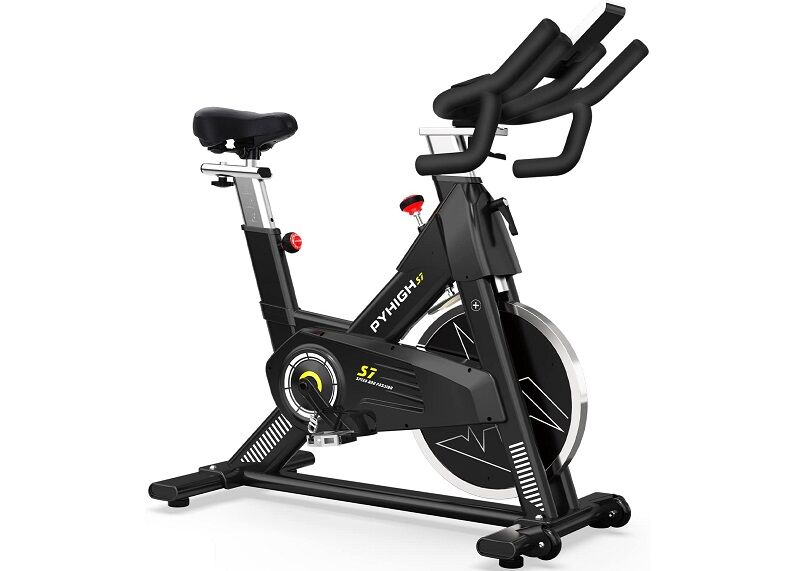 PYHIGH S7 Indoor Cycling Bike, a Heavy-duty Spin Style Exercise Bike
The PYHIGH S7 indoor cycling bike is a heavy-duty spin style exercise bike, with an emphasis on "heavy." It has an extra heavy flywheel, heavy frame, and is very heavy to move about – so be sure to plan a large section of floor space for it where it will have plenty of support. If your home gym is located in a basement with a concrete subfloor that would be ideal. However, if that is not an option, any sufficiently large area with good floor support will do. It is the perfect solution for indoor exercise to get ready for marathons, keep your cycling muscle in shape during the inclement weather months, and enable high-energy people to get in some vigorous activity.
PYHIGH S7 Indoor Bike

| Features and Specs

We prepared a list with the best and main PYHIGH S7 Indoor Bike model Features and Specs.
| | |
| --- | --- |
| Brand | PYHIGH |
| Model | S7 |
| System | Belt Drive |
| Resistance | Felt Pad |
| Flywheel | 48 lbs |
| Max Capacity | 330 lbs |
| Assembled Dimensions | L:42.5″, W:22.5″, H:44.5″ |
| Adjustable Handlebar | Yes: Up/down and Front/ back |
| Adjustable Seat | Yes: Up/ down and Front/ back |
Best Offers PYHIGH S7 Cycling Bike
Best Offers PYHIGH Bikes
PYHIGH S7 Indoor Cycling Bike
The PYHIGH S7 indoor cycling bike is an exceptionally solid exercise machine. The triangular metal body is made of car-graded steel. The 48-pound flywheel is by directional providing options for exercising a different muscle group. The recommended user weight is 330 pounds, but it can support users up to 400 pounds. This is a rock-solid machine that should not wobble under even the heaviest usage. The company is confident in its product and offers a good warranty and service plan. With that said, it is a no-frills machine. It does not need an electrical connection or Internet plan to function well.
Stationary Exercise Bike
As a stationary exercise bike, the PYHIGH S7 offers all the usual perks. It is a solid machine, no question about that. It uses friction resistance that can be adjusted at the twist of a knob. Since this is a mechanical adjustment, it is easy to select small increments of change which means there is a minimum limit to the number of levels of resistance possible. This gives the user greater flexibility in level adjustments than is usually available with bikes that use magnetic resistance.
PYHIGH S7 Advantages
The PYHIGH S7 has some other advantages, as well. First, and one that is often not discussed, compared to some other name brand exercise bikes, it has a relatively modest price. Of course, to achieve this cost saving, there are some things that you should not expect from this bike. So this is the second thing. It have an easy-to-read monitor that tracks the usual: distance, speed, resistance, and pulse. Pulse is tracked by using the handgrips; there are no options for connecting this monitor to a digital resource. Information obtained from a chest strap or similar measuring device will need to be routed through a third-party app that will allow your stats to be entered manually. The bike does have a holder where a phone or tablet can be placed so you can easily see your side-by-side data. The bike also features a wider seat than normally found on spin bikes. The seat has a standard fitting, so it can be easily replaced with a different one if desired. Both it and the multi-position handlebars can be moved to fit different family members.
PYHIGH S7 Belt Drive
The PYHIGH S7 belt drive ensures that your bike operates quietly. Encased in protective shielding, it is part of the friction drive that makes this bike so versatile. The friction/tension is adjusted by turning a knob to increase or decrease the difficulty. The knob also works as an emergency brake when you need to stop pedaling. This is important because this type of bike flywheel will keep on turning even after you stop pedaling. The brake is a good feature for when you want to stop. Belt drives are low maintenance because they do not require oiling. In fact, once assembled the only maintenance the bike should require is a wipe-down after using to remove dried perspiration, dust, and oils from bare skin contact.
PYHIGH Spin Bike
As previously mentioned, the PYHIGH spin bike qualifies as such because of its oversized flywheel and its rugged construction. Spin bikes are designed to withstand vigorous exercise. They are intended for serious athletes, for the big and tall crowd, or for teens or other active adults who need to work off excess energy. A PYHIGH spin bike is a perfect answer to the need to exercise daily, regardless of whether or the area you live in.
PYHIGH S7 Warranty
PYHIGH S7 bikes come with an 18-month warranty, along with a 100% service satisfaction guarantee. The Company is confident of the rugged construction and quality of its products. Their goal is to produce exercise bikes that will stand up to vigorous use and that will assist you with reaching your exercise goals.
Best Offers PYHIGH Bikes
Summary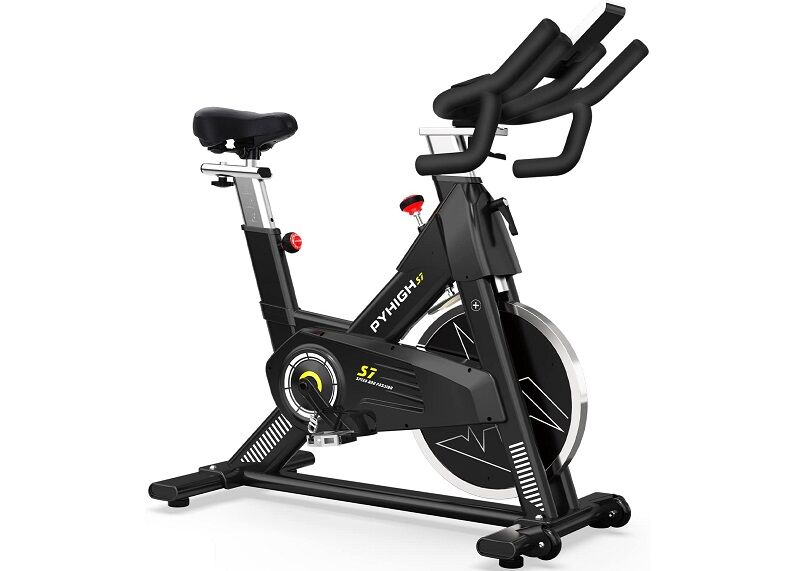 Author Rating





Brand Name
Product Name
Price
Product Availability