To compare an exercise bike magnetic vs flywheel, you first need to know how they are alike and different.
Both magnetic and flywheel bikes have a flywheel of sorts. The big difference is that magnetic spin bikes use magnets to create the resistance you feel when you are pedaling, whereas plain flywheel bikes use mechanical friction to increase resistance when you are pedaling. Which is better? It really depends on what you want your bike to do.
Magnetic Resistance Bike
As mentioned above, a magnetic resistance bike uses magnets to create levels of resistance. There are some advantages to this method. They are as follows:
They are extremely quiet
A computer linkage usually controls changes in levels of resistance
Because of the computer involvement, it is easy to add other programming to your exercise bike
Magnetic resistance provides an easy transition from one level to another, creating a smooth ride
Have a look at Yosuda Magnetic Resistance Exercise Bike L-010 as a reference of a great and affordable magnetic resistance bike.
YOSUDA PRO Magnetic Exercise Bike 350 lbs Weight Capacity - Indoor Cycling Bike Stationary with Comfortable Seat Cushion, Silent Belt Drive
【YOSUDA】Design and produce exercise machines for 20 years. YOSUDA indoor cycling bike has served more than 1,000,000 families. We are so confident this YOSUDA magnetic exercise bike can be your fitness partner.
【350 lbs Weight Capacity】Made of thickened commercial-graded steel pipe, giving this stationary bike a rock solid build. It is for a long-term exercise workout, but not simple products for only a few months' use.
【Hyper-Quiet Magnetic Drive System】We developed the latest technology magnetic system and eliminates noise to our fitness bike, controlling the sound at 20DB even after millions of times workout. No disturbing on working, reading, and sleeping at home.
【Personalized Fit Exercise Bike】This cycle bike with 4-ways adjustable handlebar and seat (inseam height 27-35in) to fit users with different heights. The toe-caged pedals are designed with adjustable straps, fit for different size feet well. All family members can join in the exercise today!
【40 lbs Flywheel with 100 Micro-adjustable Resistance】40 lbs heavy flywheel inspires your potential while cycling, no matter you are beginner or fanatic. Magnetic resistance with 100 micro-adjustable levels, just a simple twist, you can customize your exercise routine like burning calories, lose weight.
Flywheel Exercise Bikes
With all those advantages, why would you want a flywheel exercise bike? That is a super good question, and the answers are as varied as the people who like to use flywheel exercise bikes. But here are a few to think about:
Flywheel bikes require fewer electronics
They use a belt or chain linkage to turn the flywheel
Some models do not even have monitors – just the pedal and flywheel setup
They depend on the weight of the flywheel to provide resistance
Friction is used to create added resistance
Offer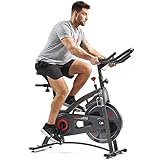 Sunny Health & Fitness Endurance Premium Magnetic Resistance Interactive Indoor Cycling Exercise Bike with Exclusive SunnyFit® App Enhanced Bluetooth Connectivity - SF-B1877SMART Gray
SMART FITNESS: Cycle along with Sunny Health & Fitness expert trainers on the Sunny Health & Fitness SunnyFit APP. Connect your preferred mobile device through Bluetooth and view your performance metrics in real time.
SunnyFit APP: The all new SunnyFit APP takes your Sunny workouts to the next level! View your live metrics displayed in real time as you tour the world with real location maps. Get the results you want with customized workout plans. Explore 1000+ workout videos that fits your schedule and goals. Compare your results on the rowing leaderboard, share your fitness experiences, get workout tips and much more!
PERFORMANCE MONITOR: Time, Speed, Distance, Calorie, Odometer, RPM & Pulse.
MAGNETIC RESISTANCE: Adjustable magnetic resistance provides smooth contactless resistance and is virtually maintenance free.
Q-FACTOR: 206mm: Lower Q-factors provide better biomechanical and ergonomic efficiency. This allows the rider to pedal faster and harder more effectively.
Exercise bike magnetic vs flywheel, Which is Best?
As with many things, "best" depends a lot on what you want to do. If you like digital training programs, smooth variations in your ride change, and automatic record-keeping, then chances are you will enjoy a magnetic exercise bike. They are generally easier to connect to a program and some models can even be used interactively with an instructor. This can be a huge advantage if you are housebound for any reason and want to participate with others in an around the world bicycle tour, or to just have a personal trainer to give you that morning pep talk. Such connections to the Internet are not required to use an upright bike that has magnetic connections, but because it already needs an electrical connection, it is easy to add the digital component.
On the other hand, if you want to use an exercise bike in a venue without electricity or a digital connection when you are more likely to appreciate a bike that depends on a heavy flywheel or mechanical friction to provide resistance. Amazing as it might seem in our modern world, not everyone wants to be connected to the Internet or to the "Grid" as our ever more complex system of electrically powered appliances have come to be called. You can set your flywheel spin bike out on the porch of your 'tiny house', remote cabin, or even in a tent and pedal away, gaining all the benefits available from any exercise bike anywhere.
Let's Hear It for Exercise Bikes of All Kinds
Whether you choose a magnetic resistance bike or a more mechanical flywheel spin bike, a stationary bicycle of any kind provides an option for a low-impact, cardio workout. Best spin bikes, which include the need to balance on an ordinary bicycle seat, will give the health-conscious user more of a full-body workout, especially when combined with some weight lifting or even with moveable handlebars.
Top Rated Spin Bikes Offers
Summary
Article Name
▷ Exercise bike magnetic vs flywheel 2022 - What is Best for you?
Description
To compare an ✅ exercise bike magnetic vs flywheel, you first need to know how they are alike and different ✅ Both magnetic and flywheel bikes have a flywheel of sorts. The big difference is that magnetic spin bikes use magnets to create the resistance you feel when you are pedaling, whereas plain flywheel bikes use mechanical friction to increase resistance when you are pedaling. Which is better? It really depends on what you want your bike to do ✍
Author
Exercise Bikes Editorial Team
Publisher Name
Publisher Logo