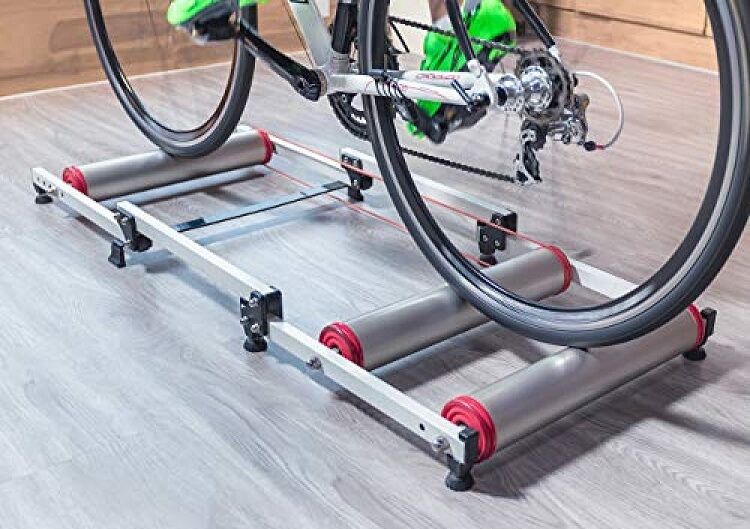 Bike Rollers for Indoor Cycling
Bike rollers are not a substitute for a stationary bike, but they could be the next step up. If you've mastered indoor practice on a stationary bike, and you're incredibly tired of trying to hitch the back axle of your street bike to a trainer, you might be ready to take your indoor cycling to the next level: Bike Rollers.
Indoor Bike Rollers
Indoor bike rollers require skill, not unlike learning to ride a bike just as you did when you were a youngster with your first bike. This is definitely not recommended for someone who is recovering from an injury or illness. It is, however, a far more realistic training method for serious bicyclists who are training for marathons or even short sprints. Like outdoor biking, an indoor set of bike rollers requires balance and coordination to keep your bike going on an unsteady rolling surface.
Highly Rated Bike Rollers
Setting up a Bike Roller
Experienced bikers suggest setting up your bike roller next to a wall, sturdy cabinet, or even inside a doorway to create a means of balancing yourself while you are learning how to ride on bike rollers. Because you are actually pedaling your bike, just as you might on a road out-of-doors, balance is key. Just as importantly, you need to learn how to get on and get off your bike. For this reason, it is recommended that beginners wear regular shoes rather than clipping onto their bicycle pedals – it makes putting out a foot to catch yourself easier when the bike topples over. Yes, just as when learning to ride a bike out-of-doors, riding on rollers could involve a few tumbles. Be sure to wear your bike helmet and closely fitting clothing during practice.
Best Bike Rollers
The best bike rollers are fully adjustable, and allow you to ride on a variety of sizes of bikes. The rollers should turn smoothly and should be firmly secured on both ends. Most of them run on a ball-bearing set-up that insures smooth turning. Bike rollers are usually set up to operate on a level surface – something to check when planning your riding location. An inexpensive small level from your local hardware store can help with checking your floor level.
A bike roller is a fairly simple machine. It consists of three rolling bars in a frame. In many cases, the frame folds for easy storage or for transporting it. Setting up a good bike roller is easy. Staying on the bike while balancing on the rollers is the hard part.
Bike Roller Trainer
You guessed it: a bike roller trainer is somewhat like putting training wheels on a bike. Instead of free-wheeling on three parallel rollers, the front of the bike locks into a stand that will prevent the bike from tipping over. Consequently, you lose some of the free-flowing benefit of pedaling on rollers, but gain safety and security not available on the regular bike roller models, while still being able to ride your street bike indoors. It is a good compromise between purchasing a stationary bike, having to disassemble a rear wheel and attach a bike stand, or learning to balance on an uneasy rolling surface. It will give you the feeling of the rear wheel moving with a surface while the front wheel is secured so that you are unlikely to tip over.
Roller Bike Stand
A roller bike stand isn't quite what you might expect from the name. It is not, unfortunately, a stabilizer for bike roller. It is, instead, a system where the back wheel of a street bike rests on rollers, while the front fork of the bike is attached to a support assembly. The rider gains stability but loses the easy setup and portability of the simple bike roller. What is retained is the free-floating feeling of the rear wheel, which helps simulate that over-the-road feeling. Like training wheels on a bike, it can be a good compromise between being completely responsible for balancing your bike and having a little help with it.
Smart Bike Rollers
Smart bike rollers incorporate the front bike stand with the back rollers to simulate a realistic over-the-road experience while offering the kind of coaching/training exercise available for stationary exercise bikes. This can incorporate magnetic resistance added to the roller stand, or it can simply track and record your efforts. Some original-style bike roller can have a sensor or tracking device added to their frame to record your indoor biking activities. However, these external sensors will only track and report; they will not control the movement of the rollers.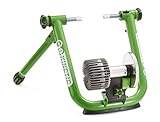 Kinetic by Kurt Road Machine Smart Bike Trainer
Progressive fluid resistance for a quiet, realistic ride
Compatible with apps like Kinetic Fit, Zwift, Trainer Road with both Bluetooth Smart- or ANT+-connected phones, tablet, and computers
6. 25 pound flywheel for superior ride feel
Includes a FREE 1-month subscription to the Kinetic Fit power-training app.
In summary:
The original bike rollers are simply three free-turning round bars that turn as the rider pedals a street or off-the-road bike. They can be adjusted for the length of the bike and the distance between tires. Balancing on a bike roller requires skill. You can expect a few tumbles while learning, so plan your bike roller location carefully.
Bike stands can replace the front or back wheel of the bike, giving the feel of riding on a roller without as much risk of toppling over while riding.
Summary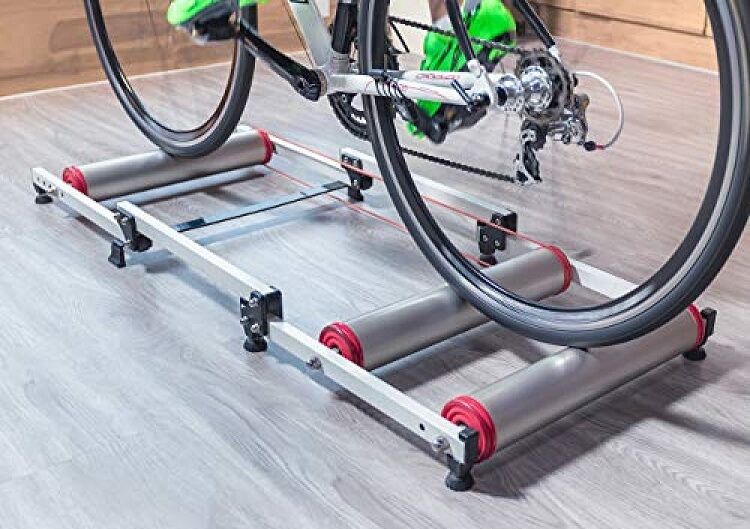 Article Name
smart bike rollers & roller bike stand
Description
Bike rollers are not a substitute for a stationary bike, but they could be the next step up. If you've mastered indoor practice on a stationary bike, and you're incredibly tired of trying to hitch the back axle of your street bike to a trainer, you might be ready to take your indoor cycling to the next level: Bike Rollers. Read More >>
Author
Exercise Bikes Editorial Team
Publisher Name
Publisher Logo